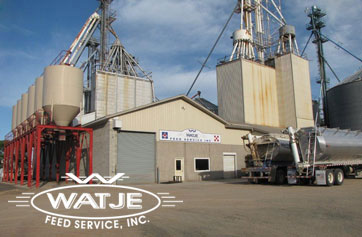 Watje Feed Service, Inc. of Clements, MN is a privately owned feed company. We are located in the middle of a very progressive production agricultural community, and we are proud to be associated with the people that feed the world!
Watje Feed Service has one main objective: Provide opportunities to ensure the success of the family farm.

We believe that our feed business is a by-product of our service, and it is our job to ensure that your livestock operation is a successful and profitable business.

It is our goal to provide business opportunities to keep the family farm viable. We want to encourage young producers to come back to production agriculture. Through our own practical and professional livestock experience, along with our affiliations, we are able to provide professional services in all aspects of livestock production.
Watje Feed Service, Inc. combines a lifetime of livestock experience, and would like the opportunity to earn your business!

Sincerely,
Jed Watje
President